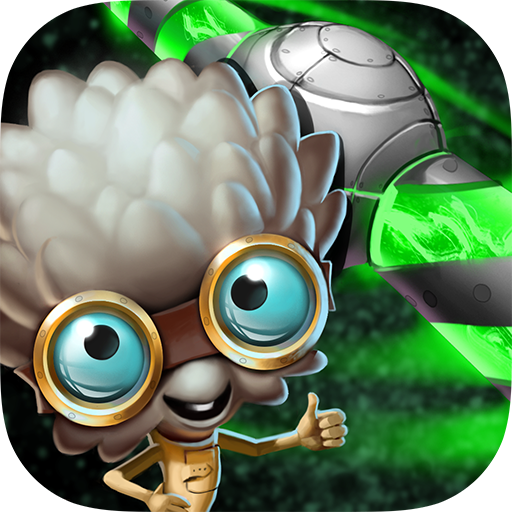 In a strange world full of colorful bands you have to help Dusty to find his family. He always feared that the day will come when an act of nature beyond control will threaten the world known to him. At night, when everyone was asleep, Dusty was working on his spacy spinship. Many days had passed until his masterpiece was almost perfect. One night in his garage he heard a weird buzzing sound growing louder and louder followed by a strong undertow. Everything started moving upwards and at the very last moment Dusty managed to enter the control center of his spinship before he was torn away…
Crazy Spinship, but Intuitive Controls
Dusty has built a really sturdy steel construction, and now it keeps rotating all the time. The good news is that the movement of the spinship is still fully functional. Unfortunately, navigating becomes a quite sophisticated task whenever Dusty encounters narrow areas, moving elements, or even extraordinary elements that influence the behavior of the spinship.
Help Dusty to master the upcoming challenges by tilting your device or by using touches for an intuitive movement of the spinship. Enjoy the well-balanced arcade style gameplay providing you with countless hours of fun. Be part of this great journey and dive in into a colorful world full of fascinating levels.
Some Facts & Features
Incodra has developed a highly performant 3D engine for large-scale 2.5D game environments with major focus on mobile devices such as smartphones and tablets. Our integrated content creation pipeline allows for an easy definition of new game assets and for a fast composition of new maps. With our first title we want to make the most of the underlying techniques and present a fully polished gaming experience providing the following main features:
40 fascinating maps with various levels of difficulty.
Story mode with 5 colorful uniquely styled chapters.
Beat the developer ghosts in the time attack mode.
Discover exciting game elements like…

…springs that change your rotation direction,
…pillows that allow you to take breath,
…moving obstacles that need to be avoided,
…puzzling networks of switches and doors,
…and much more!